Welcome to the latest news from EggSell, we add news on a regular basis.
We are all deeply saddened to hear of the passing of Her Majesty The Queen. Our thoughts are with The Royal Family at this difficult time.
This news story was published on: 09 September 2022
We are hopeful that we can resume the Discussion Group after such a long period and have arranged the following programme for the next season.


This is of course subject to any covid restrictions and may be revised.


20th October 2021 – Nick Major of FEFAC – Feed sustainability and what are potential solutions?


22nd January 2022 – Dr Becky Gosling of APHA – Salmonella control in the UK


13th April 2022 – Adrian Marshall and Jamie McIntosh of Lohmann GB – Learning from their Nuffield Scholarships


15th June 2022 – Ralph Bishop of Premier Nutrition – Poultry Nutrition and practical ways to improve diet sustainability
This news story was published on: 24 August 2021
Following on from AGM conducted electronically all Directors were re-elected with no changes.


The following awards were presented:
Top Egg Award
For Member with less than 16000 birds, who delivered the most eggs to the Packing centre from previous complete flock.
L C S Agriculture – North Duffield Selby
Top Egg Award
For Member with 16000 or more birds delivering the highest number of eggs to the packing centre from previous complete flock.
Richard and Sarah Cundall – Jackson Wold Farms
Good Egg Award
For services outside daily routine of management
Leah Page-Stott for winning the Zoetis – NFU Poultry Trainee Award 2019
This news story was published on: 09 February 2021
Due to continuing Covid we will recommence meetings when Government guidelines allow large gatherings, but this will probably not be until the next season.
This news story was published on: 09 February 2021
Due to Covid 19 and restrictions placed on large gatherings, meetings continue to be postponed and the next meeting is scheduled for April 14th 2021 at Burn Hall, Huby, York
Full details will be finalized in January 2021
This news story was published on: 19 August 2020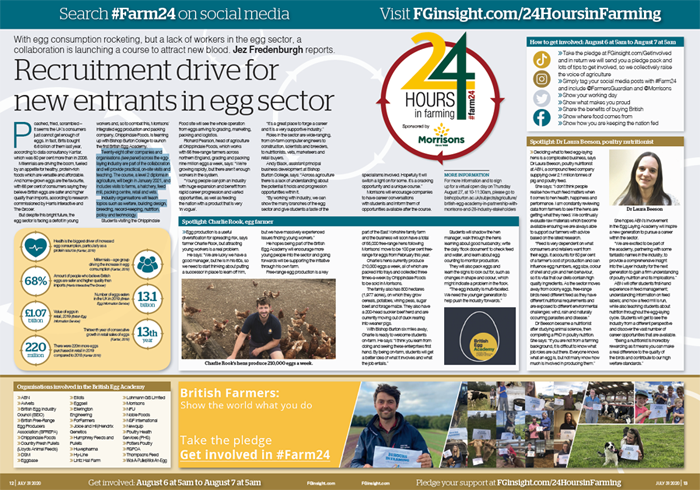 With egg consumption rocketing, but a lack of workers in the egg sector, a
collaboration is launching a course to attract new blood.
Twenty-eight other companies and organisations (see panel) across the egglaying industry are part of the collaboration and will provide practical, on-site visits and teaching. The course, a level 2 diploma in agriculture, will begin in January 2021, and includes visits to farms, a hatchery, feed mill, packing centre, retail and vets.
Industry organisations will teach topics such as welfare, building design, breeding, record-keeping, nutrition, policy and technology.
More information click here>>>
This news story was published on: 03 August 2020
YORKSHIRE EGG PRODUCER DISCUSSION GROUP PROGRAMME 2019/2020 SEASON


1. Wednesday November 6th 2019
Presentation Gary Ford Chief Poultry Advisor NFU
Avian Flu/Salmonella and Animal Rights Activists

2. Wednesday 22nd January 2020
Paula Baker and Mark Williams BEIC
BEIC Workshop – 'Beak Trimming and Feather Pecking '
Meet 4.30pm Commence 4.45pm
Mark Williams Chief Executive BEIC
'Eggs, Brexit and The Lion'
3. Wednesday 15th April 2020
Alltech –
Harriet Smith/Emily Marshall
'Improving Layer Gut Health and Performance'
4. Wednesday 17th June 2020
James Baxter
Chairman of BFREPA
Presentation – Glenhead of Aldouran /BFREPA
Anyone wishing to attend please contact Caroline Elliott via the Eggsell office or e.mail caroline@eggsell.com
This news story was published on: 26 September 2019
At the AGM held at Sandburn Hall York on 5th December the following officers were re-elected
Stewart Elliott – Chairman
Claire Hunt – Vice Chairman
Caroline Elliott – Secretary
Ian Stabler – Board Director
Ian Sinkler – Board Director
It was agreed that the number of Directors be raised to 7 and Robert Johnson and Andrew Hall were both duly elected to the Board of EggSell Producers Ltd
This news story was published on: 02 January 2018
Awards for highest number of eggs delivered to the packing station were presented to:
Over 16000 Birds – D Lightfoot and Son
Under 16000 birds – T J Hunt
Good Egg Awards for Two retiring producers who have been loyal EggSell supporters throughout:
Gill Smith
John and Chris Jackson.
This news story was published on: 02 January 2018
Burn Hall, Tollerton Road, Huby, York YO61 1JB
To reserve a place e.mail caroline@eggsell.com

Wednesday 17th January 2018
Speaker: Dr Khaled Hussein – Eco Animal Health
A talk on the true cost of Mycoplasma infection in laying hens

Wednesday 11th April 2018
Speaker: William Garton
Managing Director Avivets
A Talk on Metabolic Diseases Affecting EggShell Quality

Wednesday 13th June 2018
Speaker: Leon Schouren, H & N
Introduction of H & N Europe and the changes made on the Continent after the beak trimming ban
This news story was published on: 02 January 2018
Members of EggSell Producers enjoyed their Christmas Dinner at Sandburn Hall, Flaxton, York on Thursday 1st December.
Following a brief update, presentations were made to the following producers
Producer Award for Over 16,000 birds – N T & R O Johnson – Belton
Producer Award for Under 16,000 bird unit – Andrew Hall – Wilton
EggSell Good Egg Award – J E & J M Welburn and Family – Snainton
This news story was published on: 06 December 2016
Burn Hall, Huby, York. YO61 1JB
2016/2017
—————-
Wednesday 19th October 2016
Speaker, Gary Ford,
NFU Chief Poultry Adviser.
A talk on the Future developments in the egg industry
—————-
Wednesday 18th January 2017 CANCELLED FOR AVIAN FLU PRECAUTIONS
Speaker, Dr Aidan Leek
Poultry Technical Manager, Trouw Nutrition.
A talk on Maintaining egg quality in late lay
—————-
Wednesday 12th April 2017
Speaker, Ian Lowery
Crowshall Veterinary Practice.
A talk on Water quality issues
—————-
Wednesday 14th June 2017
Speaker, Tim Wallis
Managing Director, Ridgeway Biologicals Ltd.
A talk on Autogenous Vaccines
This news story was published on: 05 September 2016
BFREPA Annual Conference and AGM – National Motorcycle Museum – 23rd November 2016
This news story was published on: 21 July 2016
Yorkshire Egg Producer Discussion Group will commence again in October 2016, Burn Hall Hotel, Huby, York.
Full details from caroline@eggsell.com
This news story was published on: 21 July 2016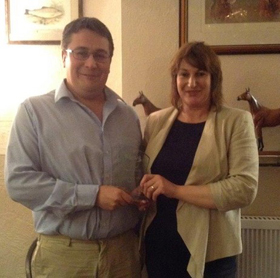 Last week saw the inaugural EggSell Awards Evening take place at The Trout Inn, Wansford.
The EggSell 'Top Egg' award is for the flock with the largest number of eggs per hen to 72 weeks delivered into the packing centre and was won by John and Gill Smith of Stape near Pickering.
The 'Good Egg' award recognises an EggSell Producer who has gone above and beyond to promote EggSell and the Free Range Egg Industry and was won by Andrew Hall from Wilton Gate House Farm, Pickering.
EggSell's Managing Director, Tom Elliott said: "We have a loyal and hard-working group of members and we wanted to acknowledge and reward their achievements with our own awards scheme. Andrew, John and Gill are worthy winners of these first awards."
The evening brought to an end what has been a great year for awards and it was nice to be able to celebrate together.
This news story was published on: 15 December 2015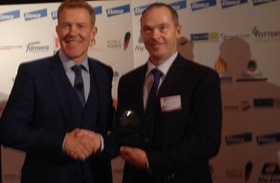 Also winning an award at the British Free Range Egg Producers Awards was Andrew Hall of Wilton Gate House Farm, Pickering. He was awarded the Small Producer of the Year Award, presented by Adam Henson.
Congratulations to Andrew on the well deserved award!
This news story was published on: 04 December 2015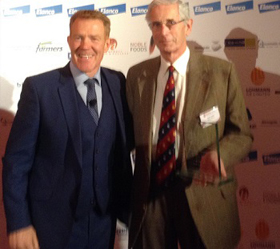 LIFETIME ACHIEVEMENT – ROGER LYTHE
Roger won this award for giving a lifetime of dedication, expertise and professionalism to the poultry industry.
Roger has worked tirelessly to support producers in all sectors of the industry, but most importantly in the free range sector. As I am certain John Cessford will clarify, during his years working for BOCM he set off to the flower market at 4am in the morning to buy flowers for his wife's Sheila's flower shop, before starting the day working as Feed Representative returning home late in the evening after spending the day with producers.
His knowledge of poultry is second to none, and it will be 60 years next year since he joined the industry and has undoubtedly served it very well.
Roger is a true gentleman, and as has always been the case, whatever Roger does is done extremely well, from organising BOCM conferences and Golf days to Yorkshire Egg Producers Discussion Group. Roger is the perfect host.
Following serious illness last year when most people would have finally given up working, he has now returned to working three days a week for Thompsons feed and fully intends to continue with supporting free range producers as long as he possibly can.
Congratulations to Roger on this well-deserved award!
This news story was published on: 04 December 2015
'How Can The Egg Industry reduce its use of Antibiotics?' was the topic for the October meeting of the Yorkshire Egg Producer Discussion Group.
The meeting was expertly chaired by Will Garton from the Minster Veterinary Practice, and the panel consisted of Ian Lowery, Crowshall Vets, Jessica Cross, Elanco and Ian Mackinson Premier Nutrition.
This news story was published on: 16 November 2015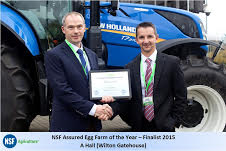 Andrew Hall gained 'Highly Commended' in the Pig and Poultry Marketing Awards earlier in the year, and last week was awarded 'Runner Up' in the NSF Assured Egg Farmer Awards. Andrew is certainly on a winning streak, but this is down to his excellent day to day management and care of his flock at Wilton, Pickering. Congratulations go from all the EggSell Team.
This news story was published on: 16 November 2015
EggSell Co-operative member, Andrew Hall, from Wilton Gate House Farm in Pickering was amongst the winners of this year's Pig and Poultry Marketing awards.
Wilton Gate House Farm was highly commended in the Health & Welfare Award. Andrew and his team impressed the judges (who included Nigel and Patrick Joice from Uphouse Farm, Peter King from 2 Sisters and Richard Griffiths and Maire Burnett from the British Poultry Council) with their open door policy as well as high egg yields and well-organised and efficiently run unit.
This news story was published on: 04 August 2015
Following a visit to the packing centre for some members, an informal lunch was enjoyed by EggSell producers, followed by the AGM which was held at Tickton Grange Hotel, on Thursday 2nd July 2015.
The Chairman Stewart Elliott, was re-elected and he gave a brief report but particularly thanked Ian Sinkler for his work as he stepped down from his role as Vice Chairman. Caroline Elliott and Clare Hunt were re-elected to remain as Directors, along with Ian Stabler, Leo Gillen and Ian Sinkler. Clare Hunt took over the role of Vice Chair.
Tom Elliott MD of EggSell Ltd, gave an informative report on feed, current egg market and sales.
It was agreed that next year the AGM would once again be held in April/May
This news story was published on: 09 July 2015
The provisional date for the EggSell Producers AGM is Thursday 25th June – further details to be confirmed. Any potential producer interested in joining the co-operative please phone 01964 530035 for further details.
This news story was published on: 13 April 2015
All meetings are held at Tulip Inn(formerly Burn Hall), Tollerton Road, Huby, York, YO61 1JB. Discussion Group commences from 6.30pm, with a Carvery dinner being served at 7.15pm and the meeting commencing at 8.15pm.
Following the change of management at Burn Hall Hotel, we are pleased to say the meeting room has been completely refurbished with sounds systems incorporated, making it a much improved venue for our meetings. The final meetings of the year are 15th April and 17th June.
Anyone interested please contact caroline@eggsell.com or phone 07717511889
This news story was published on: 13 April 2015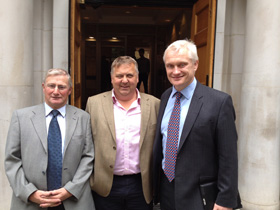 Following the request of the BEIC to write to our MP's about the proposed beak trimming plan, Stewart wrote to Graham Stuart MP for Beverley and Holderness. Mr Stuart responded very quickly by arranging to come out to visit the farm and packing centre at Elliott Eggs Ltd. Furthermore he secured a meeting on 7th July, with George Eustace to discuss the problems producers would face with a ban on beak trimming. Graham Stuart and Stewart were joined by Charlie Stephenson; pullet rearer and fellow producer, and Giles Clifton BEIC.
This news story was published on: 14 July 2014
The organisers offer their most sincere thanks to those companies who continue to Sponsor the Discussion Group. A full list of sponsors will be displayed at the beginning of each meeting.
Secretary – Harry Atkinson – 07557159341, e-mail: harry@thompsons-feeds.co.uk, Treasurer – Caroline Elliott – 07717511889, e-mail: caroline@eggsell.com, Assistant Treasurer – Phil Elliott 07780705773, e-mail: phil@elliotteggs.co.uk, Group Co-ordinator – Roger Lythe 07971257512 e-mail: roger@lythe.freeserve.co.uk
This news story was published on: 30 September 2013